This was a big year for Charles Darwin.  First he was remembered on his 200th birthday, then he went and got a whole genus and newly discovered species named after him, and now, on the 150th anniversary of the publication of his paradigm-shifting book On the Origin of Species, he's headlining here in town at the San Diego Natural History Museum in Balboa Park.  Darwin: Evolution|Revolution, which opened this weekend on November 7, is the most comprehensive exhibition on Darwin and his contribution to science ever assembled.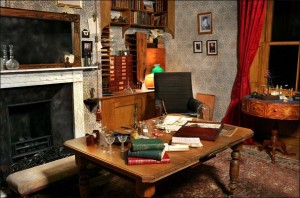 Exhibiting some of Darwin's own original artifacts — notebooks, specimens — and re-creating some sights and sounds from his eye-opening voyage aboard HMS Beagle as well as the study and lab he spent 40 years working in, the exhibit tells the story of the life and times of Charles Darwin and how he came to hit upon his big idea [SPOILER ALERT]: natural selection, the theory that explains evolution and one that, 150 years later, remains central to all life sciences.
You'll get all the primer you need to appreciate this advancement in our understanding of the natural world; no background in biology required.  I'll let you discover the details for yourself, but you'll find that, for such a big idea, natural selection isn't very difficult to follow; certainly not compared to other great scientific theories we could mention . . . relatively speaking.  In fact, you'll learn that many of Darwin's peers were slapping their foreheads and saying, "Why didn't I think of it first?"  And some almost did.  It was only a matter of time before someone would drop that bomb on science, and if it hadn't been Darwin's theory, it would eventually have been someone else's.  But it's a good thing it was Darwin who sent the memo because he was also a gifted interpreter of science; expressive and concise, like his new exhibit.  He would have turned in the best blogs here.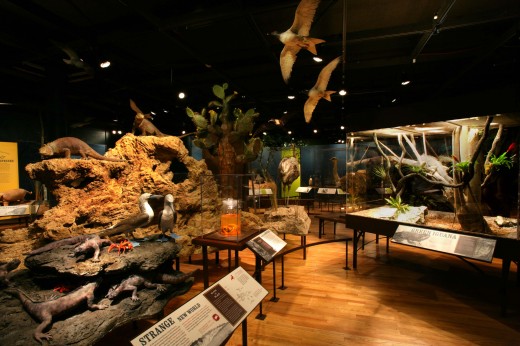 The exhibit is filled with artifacts and displays that put you in Darwin's world, but it also uses modern-day tools to bring it all home for us – looping videos of scientists giving perspective on the subject and interactive computer stations demonstrating basic principles of biology and evolution that even a 3½-year-old can grasp.  I know because I was accompanied by a 3½-year-old who spent half the time separating vertebrates from invertebrates on the touchscreen and, after helping some virtual bugs adapt to their changing environment, he explained to me, "If a bird can't see a bug, then he can't eat it."  My boy.  He's catching on.
I promise you that if you can read this blog post, you'll get even more out of Darwin than he did and, like me, you might come away looking at the world with more wonder and appreciation.
Of his theory, Darwin said, "There is grandeur in this view of life."  You said it, Chuck.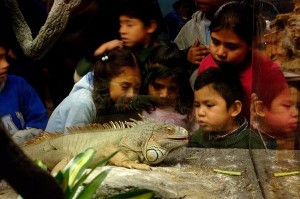 For those of us left wanting more, Darwin: Evolution|Revolution is complimented by public programs, including lectures by experts in evolutionary science and even overnight camp-ins for Boy Scouts and Girl Scouts, among other extra credit events, as the museum works overtime to promote public understanding of the natural world.
I was interested to learn that the San Diego Natural History Museum, now in its 135th year, is the second-oldest scientific institution in California.
San Diego, you continue to surprise me.
With distinguished major exhibits like Body Worlds and The Dead Sea Scrolls under its belt, the San Diego Natural History Museum outdoes itself by bringing another outstanding and illuminating exhibit to town.
Darwin will be around until his 201st birthday in February, and I highly recommend paying him a visit.  See the website for prices and hours as well as related public programs.  And why not take a walk down the prado to the San Diego Museum of Man and take a look at some of the discoveries Darwin's theory predicted?