There is no shortage of holiday fun to be had here in town, but me — I love  a parade.  Standing along a street crowded with thousands of my fellow townsfolk, a small child on my shoulders, one strapped to my chest (a new take on "strapping, young man"), watching a big, colorful, musical party go by — that's the reason for the season, you ask me.
Here are three San Diego holiday parades I don't miss.
First up is the North Park Toyland Parade on Saturday, December 5, beginning at 11:00 A.M. The Toyland Parade has been a holiday tradition here in my neighborhood of North Park (cutting down my street, even!) for decades.  It features some of San Diego's best local marching bands, dance ensembles, beauty queens, as well as classic cars and lots of fun characters, including the Jolly Man himself: Santa Claus (not pictured below).  All in all, a bona fide neighborhood parade showing off the diversity and spirit of the community.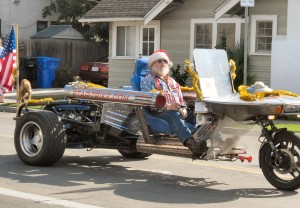 The Toyland Parade will proceed on University Avenue between Idaho and Iowa Streets.  Following this parade, children will be invited to visit with Santa between 1:00 and 3:00 P.M. in the Mississippi Room at the Lafayette Hotel on El Cajon Boulevard.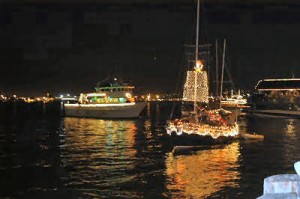 Then there's the holiday parade that takes place in the San Diego Bay.  If you like to wander through neighborhoods during the holiday season to check out their festive lights and decorations, how about heading downtown to the waterfront or to the Coronado bayside where you can stay put as the lights and decorations pass you by?
The 38th Annual San Diego Bay Parade of Lights brings the lights and decorations to you as you sit back and watch a procession of more than 80 decorated boats sail past.  The boats are judged on creativity, popularity and spirit, so it's always an entertaining spectacle.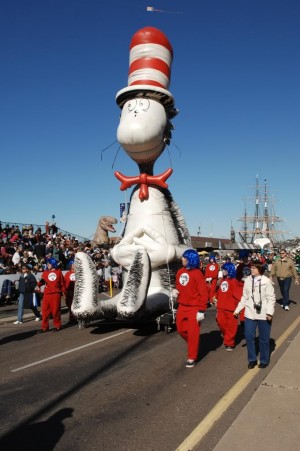 You will have not one but two chances to see the Parade of Lights — once on Sunday, December 13, and again a week later, on December 20. Both parades begin with a BANG, with fireworks displays at 5:30 P.M.
Last but not least, the Port of San Diego Big Bay Balloon Parade is just that — a spectacular parade that makes its way downtown along the bayside and features more giant balloons than any other parade in America.  Beginning at 10:00 A.M. on Wednesday, December 30, the Big Bay Balloon Parade will attract thousands of spectators to the waterfront and treat them to a procession of colorful floats, local celebrities, world-class marching bands and drill teams, and other entertainment.
The Big Bay Balloon Parade heralds the Holiday Bowl game which kicks off that evening at 5:00 P.M.
Did I miss your favorite holiday parade?  Let me know about it; maybe I'll check it out, too!
Update: More Parades
30th Annual Ocean Beach Holiday Parade and Tree Lighting Saturday, December 5, at 5:05 P.M. — Kids Fun Zone is open from 7:00 A.M. to 3:00 P.M.  OB Craft Fair starts at 9:00 A.M.  Surfers join the dazzling procession down Newport Avenue.
47th Annual Starlight Parade Saturday, December 5, at 6:00 P.M. — The largest nighttime parade in South County lights up Third Avenue between H and E Streets, and features carolers, floats, marching bands and — as if you had any doubt — the hardest-working man in show business: Santa Claus!  The Children's Holiday Festival takes place in Memorial Park from 1:00 to 4:40 P.M. followed by the mayor's tree-lighting ceremony at 5:00 P.M.
52nd Annual La Jolla Christmas Parade Sunday, December 6, at 2:00 P.M. — All-day festivities begin as the Kids Zone opens at 11:00 A.M. and culminate with a Christmas tree lighting at 4:30 P.M. and, of course, a traditional flauta-eating contest at Jose's on Prospect Street.  Witness the historic Christmas summit meeting as both Santa and the Grinch make appearances!
Attention: Pet Lovers!

Gaslamp Quarter Holiday Pet Parade Sunday, December 13, at 3:00 P.M. — Dress up in costume with your pet and head downtown to Hilton Park (next to the Hilton San Diego Gaslamp Quarter on 4th Avenue & K Street) for the most festive parade on four legs.  Pets and owners, show us your stuff at the Gaslamp Pet Expo taking place in Hilton Park from 1:00 to 5:00 P.M.
Thanks for the heads up, guys.  Enjoy the parades!