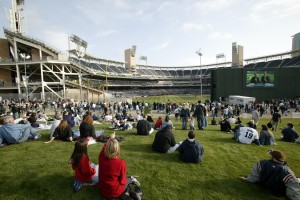 Though we San Diegans are still licking the wounds from the Chargers disappointing playoff loss, there is hope. While the east coast digs out from under a mountain of snow, we turn our attention to baseball season, sunny skies and our youthful Padres team.
Pitchers and catchers report to Spring Training next week, but baseball fans can start to get their fill at Saturday's FanFest at PETCO Park, a free event.
Gates will open at 9:00 a.m. for Padres Season Ticket Holders, while the general public can enter beginning at 10:00 a.m.
The event will run until 5:00 p.m. Parking is free in four locations: the three surface lots along Imperial Avenue (southeast side of PETCO Park) and the Padres Parkade Garage (10th Ave at J St).
By far the coolest aspect of the FanFest is the opportunity to get onto the field and into the clubhouse.
The bullpen will be open for fans to play catch, and Padres closer Heath Bell will be there to give a pitching clinic for kids.
The Padres Foundation will also be holding its annual Garage Sale in the Omni Premier Club. Fans will have the opportunity to purchase game-used equipment and memorabilia with all profits benefiting the Foundation.
Among the players tentatively scheduled to attend are Heath Bell, Kyle Blanks, Everth Cabrera, Kevin Correia, Jon Garland, Adrian Gonzalez, Tony Gwynn Jr., Scott Hairston, Jerry Hairston Jr., Chase Headley, Nick Hundley, Clayton Richard, Will Venable and Chris Young. In addition, Padres broadcasters Dick Enberg, Jerry Coleman, Mark Grant and Mark Neely will be in attendance.