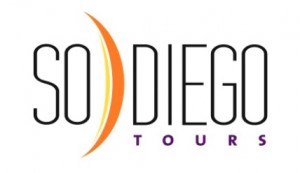 It's not many Wednesdays that I can combine eating great food, the history of San Diego's Red Light District, electronic music, a dessert pizza and getting the chance to meet a handful of great people!  Last week I had the pleasure of taking one of So Diego Tour's Restaurant Hops in the Gaslamp District that incorporated all of those things.  In fact, I am still salivating over all the great dishes I tried!
Restaurant Hops are a fun way to explore the city, eat some great food, and meet some fun people at the same time.  The Hop that I attended started at The Marble Room – a restaurant steeped in the traditions of the Gaslamp Quarter's sordid past.  With the decor reminiscent of oldtime brothels, and the staff playing the part, it was a great way to start off the evening.
A glass of wine, and several delicious appetizers later, we were strolling the streets of downtown to our next stop – Merk Bistro Italiano.  Upstairs in their semi-private group area, we were delighted with a surprise cocktail and some fantastic flavors (topped off with a mouth watering dessert pizza made with real pizza dough, nutella, apples, strawberries and drops of white chocolate).  The atmosphere was fun and relaxed, and provided a chance for us to chat up others in the group that hadn't been sitting close-by at The Marble Room.
Our last stop for the evening was Voyeur.  Most notibly recognized as one of the Gaslamp Quarter's newest nightclubs specializing in Electronic music, Voyeur also has a substantial collection of "small plate" offerings.  We had the opportunity to sample several of them and finshed off with a homemade banana fritter with melted chocolate inside and a cinnamin whipped cream.  WOW!
Like all of So Diego's Restaurant Hops, this one ended at a location that provides music.  This allows guests to continue on into the night after the Hop is over.  It's activities like this that make me love my city all the more!  Food, friends and music…what's not to like?!