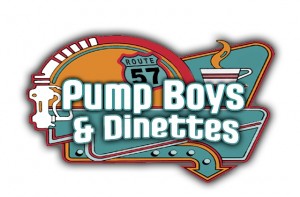 As an admitted theatre fan, I am always psyched to get the chance to see another performance.  That's why I was thrilled to get the chance to see "Pump Boys and Dinettes" the other week at the Downtown theatre for Lamb's Players Theatre.  They do a fantastic job of producing fun, entertaining, musicals (my personal favorite was Boomers! last year) and I know that I'll always leave the theater grinning.
"Pump Boys and Dinettes" is a fun musical about life in a small town.  With half the stage set as an auto mechanic shop, and the other half as a diner, the action jumps back and forth between both venues and highlights the relationships between the 6 cast members.  Lots of singing, lots of laughing and lots of fun.  As an ensamble theater, I enjoy the fact that I get to see a few familiar faces amongst the cast – Leonard Patton is always a favorite of mine.   LPT does a great job of keeping me entertained every time!
The show runs daily through April 25th and I've been encouraging my theatre friends to check it out.  In these days of economic worries, political wrangling and turmoil, isn't it nice to just go somewhere and have fun?!