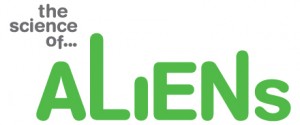 I had the pleasure of attending a sneak preview of the San Diego Air & Space Museum's new exhibit, The Science of…Aliens, last week.  Now being a self-proclaimed sci-fi lover, I was all over this invitation as soon as I got it.  What would the Air & Space Museum's take on this hotly contested topic be? 
I was thrilled to see that the Air & Space Museum did their usual great job of putting together an exhibit that blends science and pop culture into a fun, educational time.  They've brought in some fun, atypical exhibits over the past several years and Aliens definitely doesn't disappoint!
From the cool technology mapping out what life on an alien planet might look like, to the section of Pop Culture artifacts chronicling our society's fascination for all things "alien", this exhibit was full of fun facts and laughs.  The exhibit is great for science and science fiction buffs alike!