I took my wife last week to catch the Cirque du Soliel traveling show Kooza, and our socks were totally blown clean off. The good news is that they are still in town and just launched a new promotion.
For a limited time, you can enjoy 40% off Level 1 and 2 tickets and 30% off Level 3 tickets. To get the offer just CLICK HERE.
The show is really cool because they bring in so many elements so seamlessly. As a music fan I caught myself being distracted from the main show a few times because I was watching the band.
So here are a few of our impressions: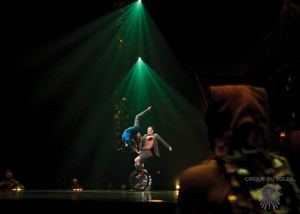 Most Thrilling Moment– Hands down it is the wheel of death. These guys are out of their minds and there were points when my wife buried her head and screeched "I can't watch this!" It is that intense and dangerous, but these amazing performers pull it off night after night.
Head Tilting Moment of the Night –  When the contortionists emerge onto the stage you literally cannot tell where one person's body ends and the other begins, or how many bodies there are for that matter.
Most Unique Act- This is a tough call with Cirque, but the unicycle duo was something I had never seen. The setup is simple enough, one guy on a unicycle and a female partner whom he performs lots of lifts with. Think figure skating, but on a unicycle.