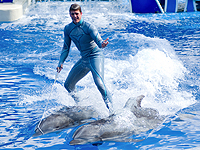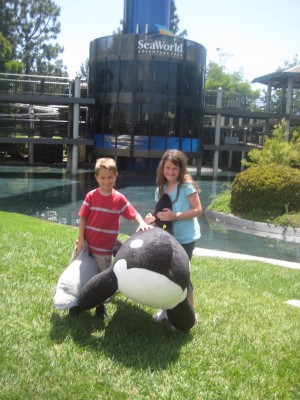 Recently we had the treat of visiting SeaWorld San Diego and seeing the new Dolphin Show "Blue Horizons."  We love visiting SeaWorld and often take our friends and family when they visit.  A few of our favorite stops are the Wild Arctic, Penguin and Shark Encounters.  One show my son loves to see every visit is Pets Rule!  It features rescued dogs, cats, pigs and birds doing some amazing tricks.  It never fails to entertain him (and I have to admit me too).
On this trip however, we were all so excited to see the new dolphin show, and it didn't disappoint.  The show features dolphins, pilot whales, birds and acrobatic performers.  Visually, it is a delight.  While the dolphins are the main attraction, there is so much more to the show.  Birds fly across the stadium and acrobatic divers fly through the air into the water and back up again.  My daughter thought they were so brave to dive from those heights! 
The dolphins and pilot whales appear throughout the show and perform some amazing tricks on their own, in groups or with their trainers.  One word of caution, when they say you could get wet in the soak zone; believe them.  I've been to a lot of these shows, and I have to say at our show, some people got drenched!  So unless it's a really hot day and you need to cool off, I would suggest being at least 10 rows up.
It's a great addition to SeaWorld and I look forward to the next time we have friends in town so that we can take it them to it.  If you have seen Blue Horizons, what was your favorite part of the show?