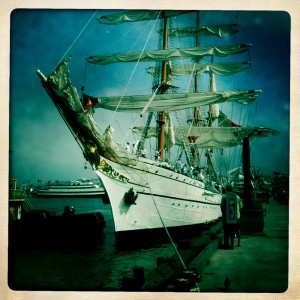 This morning I was able to see the Portugese tall ship Sagres make its way into the Embarcadero. I was able to see the sails all the way from my office, and made it down there just as the sailors were docking. It was amazing to see a full crew make its way into the port and watch them lift sails and throw lines to come ashore after their long journey from Portugal.
The 295-foot-long ship serves as a training vessel for cadets in the Portuguese Navy and as a traveling goodwill ambassador for Portugal. It is also the sister ship to the U.S. Coast Guard ship, Eagle.
From San Diego, Sagres will sail across the Pacific to Honolulu, Hawaii, and onward to World Expo 2010 in Shanghai, China. Sagres will be docked across from the Maritime Museum for the rest of the week and will be open for touring, which is free to the public. Touring hours vary, so please check here before visiting. I can't wait to get on board to sneak an insider look at this historic boat.