In honor of the San Diego County Fair's theme "Taste of the Fair," my husband and I set out accomplish one goal: to find him the most outrageous fair food and take pictures of him eating it. After doing a pre-food walk around to listen to music and burn off some pre-feasting calories, we came upon one of my (guilty) fair favorites, the Australian Battered Potatoes. Think giant potato wedges, but more amazing and served in a bucket with nacho cheese and ranch dressing on the side.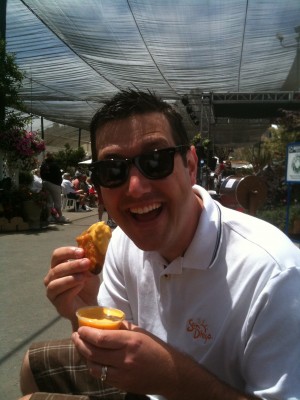 Although the potatoes were delicious, we were set out to find something outrageous. You can have french fries every day if you want. Maybe even french fries served in buckets. No, we were looking for the big-time fair food, and soon after, we found the fair food Mecca.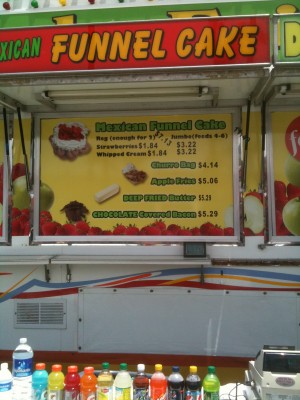 Everything we had hoped to find and consume at the fair was right in front of us. For those adventurous folks who are still reading, you can find this stand directly across from the bungee jumping, which I can assure you we did not try after eating. If you can read the food on the photo, you'll see that this food stand had apple fries, chocolate covered bacon, and the fair's newest addition, deep fried butter. Yes, fried butter, something that not even Paula Deen has created to my knowledge. Out to prove his manliness and show off his steel stomach, my husband ordered apple fries, chocolate covered bacon, and deep fried butter, with a side of Diet Pepsi. I watched in pure amazement and horror as my husband ate substantial amounts of each.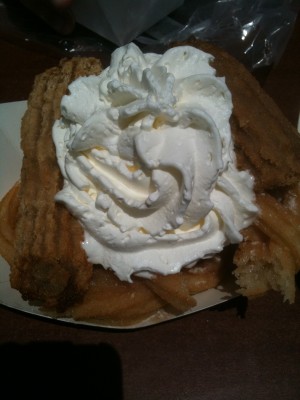 And that right there my friends, is deep fried butter. Two deep fried sticks of butter atop  a cloud of funnel cake, topped with whipped cream. After consuming all three of these decadent items it was decided that chocolate covered bacon was the day's winner. Served in a to-go box, it was perfect for toting around the fair and sharing with friends. In fact, he would have brought a box home had I not been worried about his blood pressure. Although we didn't get around to trying some of the newest fair foods such as the four-pound belly buster burger, funnel cake on a stick or deep fried pop tarts, we're hoping that some of you will get out to the fair to try these and let us know your verdict.
The San Diego County Fair will be at the Del Mar Fairgrounds until July 5th, so make sure to save the date and some room in your stomach!