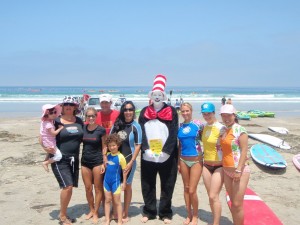 Recap of the weekend:
Celebrating World Oceans Day was quite a treat,
Sea Life had an underwater reading, which surely was neat.
Polar bears judged snow sculptures at the Zoo,
And Hornblower Cruises offered free face-painting too.
But of course Cat in the Hat made quite a commotion,
When he paddled out with Surf Diva for a book reading in the ocean.
Missed out on all the fun you say? Well that's ok,
Cuz World Oceans Day fun continues til Tuesday!
(Insert applause)
It's official, I've got Seuss fever from all the World Oceans Day fun I had over the weekend.  But just in case you missed out, there's still more fun to be had tomorrow, June 8, the official World Oceans Day.
Attractions and Museums
Restaurants
Corvette Diner & Gamers Garage wil host a reading of "One Fish, Two Fish" at 3 p.m. with a local TV news personality and offer a "Wear Blue, Tell Two" promotion throughout the day.
Around Town