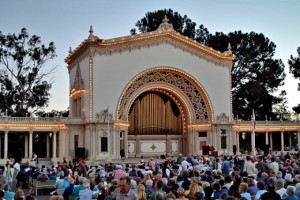 San Diego in July – it doesn't get any better than this!  Check out these five things to try this weekend and tell us what you will be up to this weekend!
1. Summer Pipe Organ Festival – This event actually runs all summer and features a different internationally known organist playing the world's largest outdoor pipe organ.  The concerts are free, and there are great area's to bring your own picnic.  It's a great way to get outside and enjoy the beautiful San Diego weather and listen to some unique music!  
2. 36th Annual Lesbian, Gay, Bisexual, Transgender Pride Celebration – San Diego Pride's famous cultural festival includes multiple stages of entertainment, more than 80 musicians, bands, comedy and dance performers, 300 participating vendor booths, an Art exhibit, cultural presentations, and great food! The annual San Diego LGBT Pride Parade is the 5th largest in the United States attracting 150,000 cheering spectators.
3. Shark Week at Birch Aquarium at Scripps – Soak up an entire week dedicated to sharks this weekend at the Birch Aquarium.  SHARK WEEK runs July 17-23 and features a week of hands-on exploration for all ages into the world of these mesmerizing and misunderstood ocean predators.
4. 57th Annual World Championship Over-the-Line Tournament – A form of softball, this tournament is more than beer, babes and bats on the beach.  This is the last weekend of the two weekend event, attracting over 52,000 people to Mission Bay.
5. Festival of the Bells – This one weekend event is the anniversary celebration of Mission San Diego de Alcalá, the Mother of California's 21 Missions. This is a great family event with activities and entertainment for the whole family and is a great opportunity for everyone to visit and learn more of this historic landmark.