I am a lover of many things; however, history is not one of them so when I heard that San Diego was the birthplace of California (I may have dozed off during that class… sorry Mom), I was surprised that many of the state's beginnings took place right here in my stomping grounds. 
With a sudden new interest in the history of my town, I visited the following five places: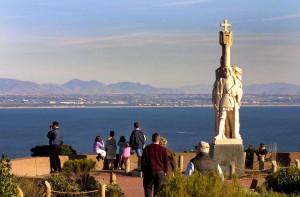 Cabrillo National Monument: The birthplace of California
In 1542, Portuguese explorer, Juan Rodriguez Cabrillo, sailed into San Diego Bay and was the first European to discover California.  Commemorating this historic landing, a monument stands high atop the cliffs of Point Loma.  The surrounding area also provides picture-perfect, panoramic views of San Diego, a small museum and exhibit hall and nearby tide pools, hiking trails and the Old Point Loma Lighthouse.
Mission San Diego de Alcala: The first California mission
Out of Father Junipero Serra's 21 missions, this was the first and thus was the beginning of Christianity in the western United States.  Originally located in Old Town San Diego, the mission was relocated to its present site in Mission Valley near the San Diego River in 1774.  Visitors can attend mass in the original chapel, visit the mission's museum or take a tour and stroll through the mission grounds where the oldest known cemetery in California is located. 
Sunny Jim Cave: A Prohibition Cave
Located in La Jolla, this cave is the only known sea cave that is accessible from land.  This hand-dug tunnel was created in 1902 and was used to smuggle contraband Whisky during Prohibition.  To access this cave, you must visit the historical landmark, The Cave Store, where you then descend 145 steps underground.
The Whaley House: One of the most haunted houses in California
Since its construction in 1857 in Old Town State Historic Park, the Whaley House was once a gallows' site, San Diego's first theater, the county courthouse and home to the Whaley family who were early San Diego settlers. Throughout the property's 153 year history, a number of deaths occurred on site and many people believe the spirits of those past still linger including a playmate of the Whaley children, a grand larcenist who fought to keep alive at the gallows and Mr. and Mrs. Whaley themselves.
William Heath Davis House: Home to downtown San Diego's colorful past
The Gaslamp Quarter Historical Foundation operates out of this historic home, which was once the residence of William Heath Davis and Alonzo Horton, the founders of downtown San Diego.  The home is Gaslamp Quarter's oldest surviving structure and documents fascinating stories about the famous inhabitants.  Guided downtown walking tours are also available and offer a vivid re-creation of the Gaslamp Quarter's history from the late 1800s when the "red light" district flourished, the naughty ladies of the Stingaree roamed the streets and Wyatt Earp and his three gambling halls ruled the neighborhood.