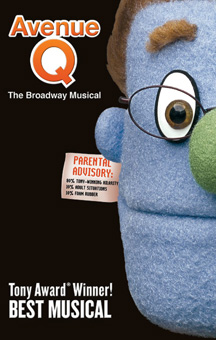 We all watched Sesame Street, right? I grew up watching puppets solve problems, teach new letters and numbers, and singing songs about friendship, sharing and feelings. Avenue Q is a  lot like Sesame Street, except puppets solve much more adult problems, learn about racism, and sing songs about the dark side of the internet. And Gary Coleman lives there too.
It was amazing to see a cast of 6 people and a plethora of puppets that included humans, monsters and bad idea bears bring the Civic Theatre stage to life. This three-time Tony award-winning musical definitely earns all of its accolades. My husband and I laughed through the entire performance, and I don't think I saw a single person sleeping. It was a great date night as long as you're not taking someone out who is easily offended. If you get a chance to head downtown to see it I would 100% recommend it as long as you leave your little monsters at home.
Avenue Q, presented by Broadway San Diego, is playing at the San Diego Civic Theatre through July 11th. For tickets and show times, please see the Broadway San Diego website.