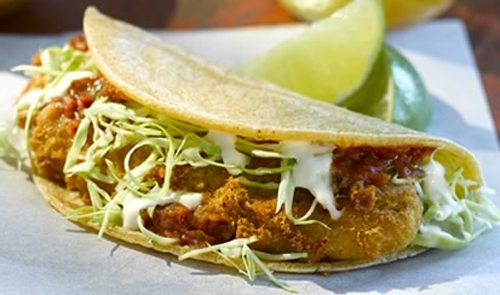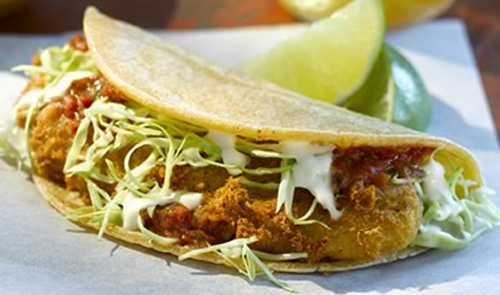 There are two things that are sure to get San Diegans talking (other than sports); Which beach is the best, and where to eat the best fish tacos. While the fish taco officially started somewhere in Baja, San Diego has adopted it as its signature dish. Fish tacos can be found pretty much anywhere in San Diego – from the chain restaurant Rubio's (one of the founding fish taco locations in San Diego) to more fine dining – George's Ocean Terrace. So when you visit San Diego, be sure to try one – you won't be disappointed. Here are some of my favorite places for fish tacos:
This restaurant, located in Gaslamp Quarter and a block from PETCO Park, is a great place to try fish tacos. They feature a "Catch of the Day" fish taco as well as several different types of fish tacos including halibut, salmon and my favorite: swordfish. It has a large outdoor seating area for fun people watching as well.
With over 20 restaurants located throughout San Diego and known as one of the best places for fish tacos, it's a great and convenient place to stop in and try. I love their HealthMex Mahi Mahi taco and if I'm really hungry I go for the Fish Taco Especial. I've also recently become a big fan of Wahoo's.
Located in one of my favorite beach communities, Ocean Beach, is South Beach Bar & Grille. The location couldn't be better and it is much loved among locals and visitors alike. They are probably best known for their mahi fish taco, but really anything tastes great when sitting on the patio, drinking a local brew, and enjoying the views of the Pacific Ocean.
With incredible views of the ocean and nestled in La Jolla, George's is a must stop when I'm entertaining the family. Right now for lunch, they are featuring fish tacos with the most amazing mango salsa. Yumm…
Located in Mission Hills, this is not your ordinary taco shop and the décor is anything but typical. Decorated with a wrestling theme (you can ask why when you go there). My favorite is the Undefeated Seafood Taco.
Tell us, where's your favorite fish taco spot in San Diego?