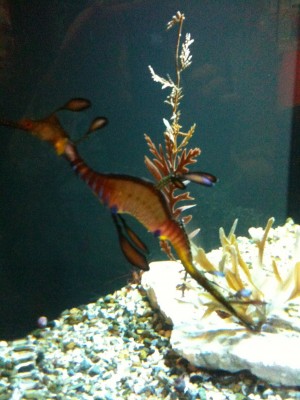 This past weekend, I took my kids to see "There's Something About Seahorses" at the Birch Aquarium. It's a great place to spend a few hours, especially if you are entertaining a crowd. To access the seahorses we first went through "Feeling the Heat: The Climate Challenge" exhibit. It's a very interactive exhibit that helps teach kids and adults about the environment. Apparently the exhibit is very effective, because after we arrived home, my daughter told me I needed to make sure all of our light bulbs were CFL's (which for the record most of them already are).
The Seahorse exhibit was really fun. There is a cute interactive area that is great for smaller children and a video on how seahorses mate and give birth (Brett thought it was "gross"). There are more than a dozen tanks to view the smallest of seahorses to the largest, but I have to say my favorite were the Seadragons. They are part of this exhibit and my son commented they look like they came from a Harry Potter movie. The baby seahorses are really fun to watch too.
All in all, it was another great morning at the Birch Aquarium. Haven't been? Click here for $2 off your next admission!