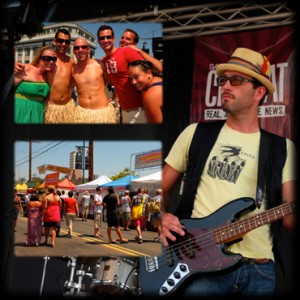 The 27th Annual Hillcrest Cityfest
Aug. 8 in Hillcrest
This FREE event celebrates community spirit with music, arts and crafts, a celebratory lantern parade and rededication of the Hillcrest neighborhood sign. Event futures will include a Grand Stage, massive open air beer garden, a kid's carnival, mechanical bull, dunk tank and more.  The event takes place from 12 – 8 p.m.
The 30th Annual US Sandcastle Competition
Aug. 7 – 8 in Imperial Beach
This FREE event begins on Saturday with a street festival along Seacoast Drive.  The festival will include entertainment, food, arts and crafts and The Kids-N-Kastles Competition in the afternoon. On Sunday the official sandcastle competition will be held from 9 a.m. – 2 p.m. Sculptures are only available for viewing until 4 p.m. due to the tides.
The 9th annual Latin American Festival and Mata Ortiz Pottery
Aug. 6 – 8 in Old Town
Bazaar del Mundo Shops presents an extensive collection of authentic folk art, traditional clothing and textiles, colorful collectibles and dazzling jewelry during this FREE event. Partake in demonstrations, enjoy musical entertainment and feast on mouth-watering Mexican cuisine. The event takes place from 10 a.m. – 8 p.m. on Sunday and from 10 a.m. – 5 p.m. on Sunday. 
The 7th annual San Diego International Children's Film Festival
Aug. 7 – 8 in Balboa Park
The Museum of Photographic Arts (MOPA) will present more than 60 short children's films from around the world – ranging from animation, live action and documentary. The FREE event will also include special guest appearances and fun giveaways. The event takes place from 10 a.m.- 3 p.m. on Saturday and from 10 a.m. – 5 p.m. on Sunday. 
Coronado Concerts in the Park
Aug. 8 in Coronado
Bring a picnic and listen to The Corvettes, as part of Coronado's summer concert series at 6 p.m. in Spreckels Park. Arrive early and browse the work of local artists during Coronado's Art-In-The-Park event.