The forecast says 71 degrees for this weekend – does it get any better than San Diego in the summer? Here are 5 to try this weekend – all of which are outdoors!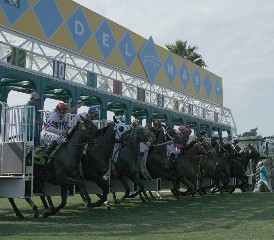 Old Globe Theatre Shakespeare Festival: Set against a backdrop of spectacular Balboa Park and nestled among beautiful eucalyptus trees is the outdoor Lowell Davies Festival Theatre. Watch The Madness of George III on Friday, The Taming of the Shrew on Saturday or King Lear on Sunday. What a great place to enjoy a beautiful San Diego evening.
Del Mar Horse Racing: It's doesn't feel like summertime in San Diego without a visit to where the turf meets the surf. That means races, big wins, and great music at the 4 o'clock Friday concert series. This Friday features THE SOFT PACK- Indie Rock.
San Diego Zoo's Nighttime Zoo: The Zoo has extended their hours through the summer until 9:00 p.m. Get out and see the Zoo's incredible macaw flyover which kicks off the evening activities and then be sure to catch Nighttime Zoo's signature bird show, SOAR: A Symphony in Flight starting at 8 p.m.
Family Focus Festival: The Festival taking place at the Coronado Community Center, includes a "Taste of Coronado" with food from over a dozen Coronado restaurants, and fabulous shopping with boutique vendors. Kids can spend the day playing games, hat making with the Rad Hatter, face painting, on the rock climbing wall, and much more. Benefits disadvantaged children in San Diego.
It's a Bug's World: Go on a guide-led walk along a riverside habitat and up into the grasslands to observe who is eating who for breakfast. Located at the Kumeyaay Lake Campground Entry Station, Mission Trails Regional Park, this fun event is free for all participants.
Tell us, what will you be doing outdoors this weekend?