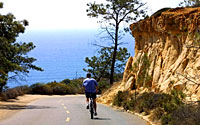 With year round outdoor weather and varied terrain, San Diego is a cyclist's paradise. If mountain biking is your thing, the East County has some great desert trails and rocky mountain paths that will surely please even the most discerning cyclist. One of the better known rides is Cuyamaca to Noble Canyon, located in the heart of the Cleveland National Forest. This ride, designated by the International Mountain Biking Association as an "epic" ride, is a 30 mile journey along the spine of the Santa Rosa Mountains.
If the waterfront is more your style (it is definitely mine), there are many coastal bike paths that provide opportunities for cyclists of all skill levels. I enjoy more of the leisurely stroll down the boardwalk and lately we have been riding a lot on Coronado Island. It's a great path that takes you around the Island and is perfect for kids because it is almost entirely flat.
Do you love to ride in San Diego? Then you should try the 37th Annual Midnight Madness Fun Bicycle Ride. On Saturday, August 21st, 2010, there will be a fun night of cycling, contests, prizes, and entertainment to support community youth programs. The cycling route is an 18-mile, primarily flat loop course along some of San Diego's most beautiful waterfront and historic areas.
Win two entries to Midnight Madness! To win two entries into the 2010 Midnight Madness Fun Bicycle Ride, comment below. One winner will be chosen on Thursday, August 5.