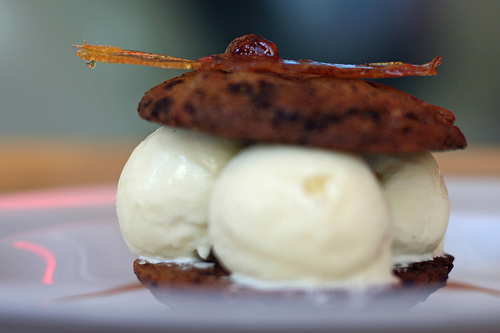 Today is National Ice Cream Sandwich Day (yes there is an actual day for this), so we decided to find the best and most interesting ice cream sandwiches in San Diego.  What better way to celebrate a beautiful San Diego day then with one of these tasty treats?
Lighthouse Ice Cream and Yogurt – located in Ocean Beach, this is your classic beach ice cream shop.  They feature the most amazing Hot Waffle Ice Cream Sandwich.  First, you choose your flavor of ice cream and then, they sandwich it between two Belgium waffles and put it in an iron at 380 degrees for 17 seconds.  These are seriously habit forming.
Cold Stone Creamery – Most locations offer 5 different varieties of ice cream sandwiches.  My son loves the Cake Batter Sprinkle and with almost 15 locations in San Diego – we are never far from them.
The Linkery – This restaurant has probably the most interesting take on the ice cream sandwich.  The staff here isn't quite sure what to make of this sandwich, but it is a customer favorite!  It's called the Lardo Ice Cream Sandwich.  They first start with handmade ice cream flavored with house cured lardo from pastured Berkshire pork, sandwich it between chocolate chip cookies made with stone-milled Taza organic Oaxacan-style chocolate, top it with bits of candied house cured bacon from pastured Berkshire pork and finally some caramel sauce.  This wins for the most interesting take on an ice cream sandwich.
Tell us, what is your favorite ice cream sandwich?