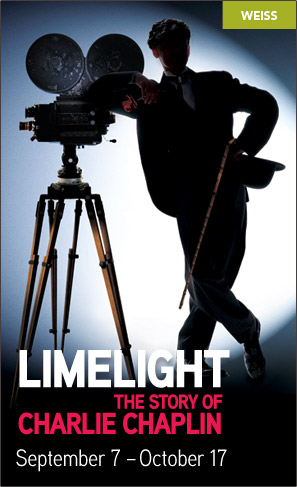 The La Jolla Playhouse is one of my favorite places to experience theatre in San Diego. With over 50 Playhouse-originated productions having been transferred to Broadway, I am always curious to see what new and exciting show they have come up with. Therefore, I am so excited to see the world-premiere musical Limelight: The Story of Charlie Chaplin, currently playing through October 17, 2010. The musical delves into Charlie Chaplin's personal life: from the gritty streets and smoky music halls of London to movie screens across the globe, Limelight goes behind the camera to show how a comic genius found soaring success and later fell from grace.
Charlie Chaplin's image is iconic even if you have never seen any of his movies. And I have to admit, I'm not a huge fan of Charlie Chaplin, but I am intrigued by the idea of a musical about a man who mostly made silent films. Playing the role of "Charlie Chaplin" is Robert McClure. He recently starred as "Princeton" in the Broadway and national touring productions of Avenue Q. The musical is directed by Warren Carlyle and Michael Unger.
Have you ever seen a play at the La Jolla Playhouse? If so, which one?
Win two tickets to see Limelight! Comment below for your chance to win. You must comment by Friday, September 17th at 10:00 a.m. PST. Tickets are good through September 30th (excluding Saturdays). Find more information on the La Jolla Playhouse at www.facebook.com/lajollaplayhouse or follow them on Twitter at www.twitter.com/ljplayhouse.