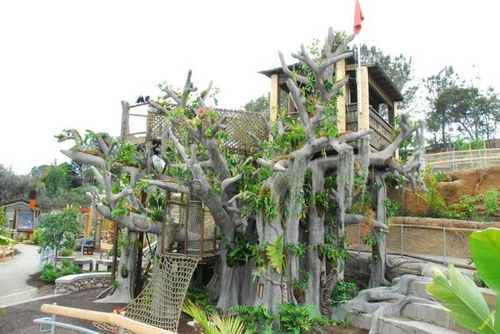 Grandparents Day is Sunday, September 12th! In honor of all the grandparents out there, here are our 5 to Try with the grandparents. Our kids and the grandparents have tried all of these activities and I think all would give them two thumbs up!
Reuben H. Fleet Science Center: On Sunday, September 12th, the Science Center is offering free admission for grandparents and their grandkids! The Science Center offers exciting "do touch" science exhibits for visitors age 1 to 101. Our favorite area is the "block buster's." Visitors can build fun structures with thousands of KEVA planks – no glue or connectors necessary!
San Diego Botanic Garden: This is a great outdoor activity for both grandparents and kids. The grandparents will love the 36 acres of distinct garden displays and the kids will LOVE the largest demonstration children's garden on the West Coast, which features a 20-ft climbable tree house. I can tell you first hand, that tree house is super fun!
USS Midway Museum: When my dad came to visit a few months ago, he suggested visiting the USS Midway Museum with him and the kiddies. At first I think I was the only one with some hesitation. But I have to say it is one of my favorite places to bring guests when they are visiting San Diego. It's really fascinating to learn about the ship, and the kids love to walk up and down the stairs and explore the different areas of the ship. This museum has a lot of stairs and small corridors to walk through therefore I would only recommend it if the kids are big enough to maneuver it on their own and the grandparents are up for a lot of stair climbing.
San Diego Zoo Safari Park: We have taken both sets of grandparents to the San Diego Zoo Safari Park. Why? Well for starters, it's only about 15 minutes from our house; but it could be 15,000 miles. Our favorite is of course the Park's Journey into Africa tour. This open-air vehicle brings visitors to eye level with animals. On one of our last visitors we did the Balloon Safari with the grandparents. It provides a birds-eye view of the Park. It's really fun!
Old Town San Diego: Old Town, considered the "birthplace" of California is a really fun way to spend the day with the grandparents. We took my mom there recently and she loved the historic Victorian houses. My kids loved the candy shop! They really have the best taffy.
What are your weekend plans?