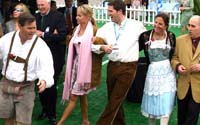 1. Head over to Del Mar and enjoy the Annual Taste and Art Stroll on Saturday, October 2nd. The event includes a free art stroll, juried original artwork by talented, local and regional artists, live music, a children's interactive art area and a pet stroll.
2. Share in the tradition "as American as apple pie" when you head up to Julian for the Annual Julian Fall Apple Harvest. The event runs from September 15-November 15th and celebrates the historic mountain town's famous homemade apple pies and ciders. Visitors can also enjoy acres of colorful fall foliage, art shows, quaint antique shops and live entertainment.
3. Hang out with over 200,000 people as they celebrate Oktoberfest in La Mesa. This is the largest 3-day Oktoberfest West of the Mississippi and features over 400 craft and commercial booths, 5 food courts, 2 beer gardens, a children's carnival and a huge dance floor.
4. Celebrating 55 years of Air Shows at MCAS Miramar is the Annual Miramar Air Show. Watch both civilian and military aerial acrobatic performers, including the U.S. Army Golden Knights Parachute Team, Dan Buchanan's Special Effects Power Glider, and Les Shockley's "Shockwave" Jet Truck" to name a few.
5. Head over to the San Diego Zoo, where kids 11 and younger enjoy free admission for the entire month of October. Learn about Earth's amazing creatures and the Zoo's conservation efforts underway to save them.