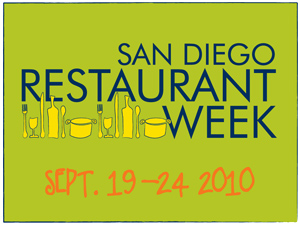 I've said it before, and I'll say it again.  I LOVE RESTAURANT WEEK!  "Why the heck is he telling us this today?" you ask, well uh, yeah…it's Restaurant Week THIS week!
I recently realized that I don't take my girlfriend out to nice sit-down restaurants for dinner nearly enough (see previous posts on my love of taco shops!).  So, I determined to fix that problem last night by planning a date night at the Chart House in Cardiff-by-the-Sea.  We had some FAN-tastic prime rib and creme brule and the restaurant has an amazing view of the ocean from their dining room!  What better place for a romantic dinner?  And while ordinarily I might have been a little worried about the bill at the end of the night, dining during Restaurant Week guaranteed us a delicious meal at a pre-set price!
If you don't already know it, here's the Restaurant Week schpeel:  Pre-fix 3-course meals for $20, $30 or $40 per person at over 200 different restaurants in San Diego.  A great deal for some awesome food.  Who can beat that?  I NEVER miss a Restaurant Week and always take the opportunity to try the food at a restaurant I've never been to.
Restaurant Week runs now through Friday (the 24th) so don't miss out!
PS…And since I just can't get Restaurant Week out of my mind….I've organized the crew to head out for something a little more adventurous on Friday…French food!  Buon Apetit!