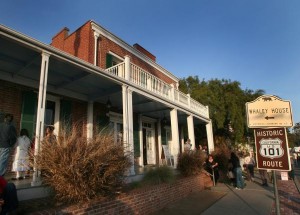 Saturday, September 25th is National Museum Day.  What is National Museum Day you ask? It's an annual event hosted by Smithsonian Media in which participating museums across the country open their doors for FREE to anyone presenting a Museum Day Ticket.  Sounds like a good idea to me!  The great thing is there are over 15 museums participating in San Diego County!  Everything from the Museum of Making Music in Carlsbad to the Reuben H. Fleet Science Center in Balboa Park are taking part. 
It's a great opportunity to see a museum you have never been to.  I have never been to The Whaley House Museum, so that is where I will be using my free pass.  Where will you go?  See the list below for participating museums.  Be sure to bring your Museum Day Ticket with you for free admission.
A favorite museum of ours is also the Reuben H. Fleet Science Center in Balboa Park. It really has something for everyone.  Can't make there on Saturday?  No problem, comment on our blog below and two lucky winners will receive four complimentary passes to the Science Center! Comment by Monday, September 27th at 10:00 a.m. pst.
San Diego County Participating Museums:
Barona Cultural Center and Museum – Lakeside
California Center for the Arts – Escondido
Creation & Earth History Museum – Santee
Escondido History Center – Escondido
Marston House Museum – San Diego
Mingei International Museum – San Diego
Museum of Contemporary Art – San Diego
Museum of Making Music – Carlsbad
Museum of San Diego History – San Diego
Oceanside Museum of Art – Oceanside
Reuben H. Fleet Science Center – San Diego
San Diego Air & Space Museum – San Diego
San Diego Archaeological Center – Escondido
San Diego Botanic Garden – Encinitas
San Diego Chinese Historical Museum – San Diego
San Diego Natural History Museum – San Diego
The Adobe Chapel Museum – San Diego
The Whaley House Museum – San Diego