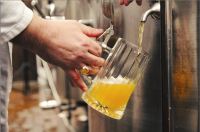 You may not realize it, but San Diego is home to some of the best craft breweries in the Country. And to prove our point, over the weekend at the Great American Beer Festival in Denver, Pizza Port Carlsbad was named large brewpub of the year (for the 2nd year in a row!). The brewery brought home seven medals total including three Gold Medals for its Beech Street Bitter, Revelations and Reed's Wee Heavy. Karl Strauss won for its Irish-Style Red Ale called the Red Trolley Ale. Stone Brewing Company and Ballast Point were also winners at the Festival.
More than 3,500 beers vied in 79 categories. San Diego winners were:
2010 Brewery and Brewer of the Year
Large Brewpub and Large Brewpub of the Year, Pizza Port Carlsbad
Gold
Traditionally Brewed Beer, Fathom IPL, Ballast Point Brewing Co.
English-Style India Pale Ale, Beech Street Bitter, Pizza Port Carlsbad
Irish-Style Red Ale, Red Trolley Ale, Karl Strauss Brewing Co.
Belgian-Style Strong Specialty Ale, Revelations, Pizza Port Carlsbad
Scotch Ale, Reed's Wee Heavy, Pizza Port Carlsbad
Silver
Herb and Spice or Chocolate Beer, Stone Smoked Porter w/ Chipotle, Stone Brewing Co.
Coffee Flavored Beer, Coffee Monster, Pizza Port Carlsbad
Other Strong Beer, Panzer Pilsner, Port Brewing, San Marcos
English-Style Mild Ale, Skidmark Brown, Pizza Port Carlsbad
Imperial Stout, Night Rider Imperial Stout, Pizza Port Carlsbad
With more than 35 breweries in the San Diego area and an international reputation for creating inspired brews, checking out a brew pub is definitely something to add on your to do list. Come see for yourself at the 2nd Annual San Diego Beer Week, November 5-14, 2010. This ten day celebration will have more than 500 events across the county. It will kick off with the Brewers Guild Festival and conclude with the Chef Celebration of San Diego Beer, a gourmet beer and food-pairing event.