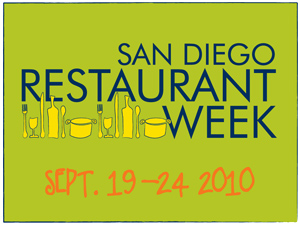 San Diego Restaurant Week is just around the corner. The foodie in my is screaming, "YAAAY! Think of all the things I get to try this year," while the sensible money-saver in me is screaming, "YAAY!! Three-course meals for only $20-$40 per person!" SO basically, every little part of me wins this battle.
San Diego Restaurant Weeek takes place twice a year, once in January and once in September. It runs from 9/19 through 9/24 and includes over 180 of the city's best restaurants. Everything from the waterfront Marine Room in La Jolla to the hip Croce's Restaurant and Jazz Bar is offering these amazing deals. In January I went to Pacific Coast Grill in Solana Beach where you can not only bring your doggie to dine on their outdoor patio, but where I ate fish tacos that were literally to die for, come back to life again and continue eating good, and only $30.
The other great thing about Restaurant Week is that most hotels are offering deals, so you can literally hop on the train from L.A., eat a delicious meal, spend the night at a hip, downtown hotel and then hop back on the next day. I think of this as the ultimate foodie slumber party.
Since Restaurant Week hosts some of the most popular restaurants, it's a good idea to make reservations in advance (are you on your phone yet?).
Bon Apetit!