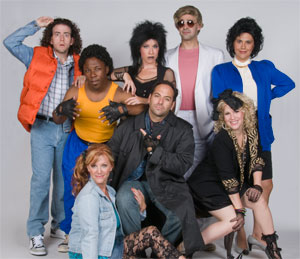 Last weekend, I went to see a World Premiere performance of miXtape, presented by Lamb's Players Theatre, and I had the most amazing time. I was rockin' out in my seat as songs from my childhood and tunes from my recent karaoke bar visits rang through the theater. To sum it all up, miXtape is A MUST SEE… but here's a bit more information: 
"miXtape will take audiences on a seriously wild musical ride back to "that most awesome of decades." Reagan was in the White House, Michael Jackson was at the top of the charts, lycra and legwarmers were the accessories du jour, and a "mix tape" of favorite tunes was the ultimate in self-expression. The Cold War was heating up and the world was sure to end any moment. But for Generation X, life was just beginning. Put on your suspenders, pull out the Members Only jacket, do your hair up with a scrunchy, and "everybody cut footloose" for this totally rad musical world premiere."
Featuring the music of the 1980s, you can sing along to hits like "Eye of the Tiger," "Material World," "I'm So Excited," "Up Where We Belong," "Maneater," "Beat It," "Time After Time," "I Still Haven't Found What I'm Looking For," and "Thriller," among many other hits by Sting, Madonna, Rick Springfield, Huey Lewis, Billy Joel, Rick Astley, Queen and more.
miXtape will be playing at the Horton Grand Theatre, now – October 24.
Now I can't wait for the premiere of BurnnedCD…