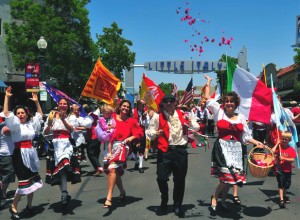 This is the weekend of the festival. With weather projected to be above 70 degrees all weekend, what better way to celebrate being in San Diego than participating in one of these fun festivals. Which one sounds fun to you?
Little Italy FESTA!: In its 16th year, the Little Italy neighborhood continues to celebrate its heritage by bringing the passion, vibrancy and flavors of Italy to southern California with its yearly treasured event, the Little Italy FESTA on October 10th. More than 150 vendors, three stages of entertainment, Gesso Italiano (Italian Chalk), an Italian motorsport show, a Stickball exhibition game, and a children's area will encompass more than 16 blocks of event activities at this family-friendly event.
Gourmet Experience: Held October 9-10, 2010, The Gourmet Experience is a gourmet-focused showcase of over 250 brands, featuring a number of epicurean products and services ranging from luxury cookware to home remodeling ideas to gourmet foods and more.
La Jolla Art & Wine Festival: This unique two-day festival will be held in the Village of La Jolla on Upper Girard Avenue and will showcase over 150 juried fine artists, the Green Dragon Wine and Beer Garden, live entertainment at the Village Stage, a gourmet marketplace and Geppetto's Family Art Center.

Old Town San Diego Art Festival: This event brings together the essence of Southern California. Enjoy museum quality art and sculpture as you stroll through Old Town with all it's history and charm. The Old Town San Diego Art Festival features contemporary artists, fine craft, fashion and home décor artisans.
Pacific BeachFest: Pacific BeachFest will be held on Saturday, Oct. 9, 2010 on the Boardwalk from Diamond to Thomas St. Get your fill of beach volleyball, music, food, fine arts and crafts, fireworks and more! This event has something for everyone, rides for the kids, shopping for adults, fish tacos from the best at the beach, a radical beach volleyball competition, and a fireworks display that the whole family can enjoy together.