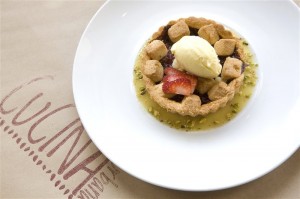 It's National Dessert Day, not that I think there needs to be one, to me every day is dessert day. My go to dessert is chocolate. Pretty much anything with chocolate will get my attention. Below is a sampling of some delicious creations you can find in San Diego. Tell us, what is your favorite dessert?
Cucina Urbana–This Banker's Hill hotspot located at 5th and Laurel is well known among locals as a great place to get an affordable meal without comprising taste and ambiance. Currently, Pastry Chef Ben Rollins is featuring an Apple Gratin. They serve the dish in a miniature cast iron skillet with shortbread acting as the crust below layers of apples that are slow baked with brown sugar and custard, forming an intense layer of moist apples. They then warm it in the oven and finish with a layer of brandy sabayon which is toasted using a torch, then crumbles of walnut brittle are scattered over the top, adding a nice crunch. All I can say is Yummy!

Extraordinary Desserts– Depending on the time of day, you may be waiting to order. But believe me, the wait is worth it. TripAdvisor recently named it in the Top 10 of Decadent Desserts Spots in the US! Due to my love of chocolate, my favorite dessert here is the flourless chocolate cake, but really you can't go wrong with any of their desserts.
Chuao Chocolatier– Based in San Diego, Chuao is the first Venezuelan Chocolatier based in the United States. Unusual flavor combinations are what Chuao has become well known for including the Firecracker: a chipotle caramel fudge truffle with popping candy, a hint of salt and dark chocolate. With locations in Encinitas, Del Mar Highlands, and UTC as well as in many local hotels, you are sure to find some interesting and great tasting chocolates!
Rancho Bernardo Inn's El Bizcocho– Recently named by San Diego Magazine as the Critic's Choice for "Best of the Best", this restaurant located in the Rancho Bernardo Inn is truly a memorable experience. Right now, they are featuring Milk and Cookies on their dessert menu. Believe me this is no ordinary kid's milk and cookies combination. They take fresh baked chocolate chip cookies and combine it with Dulce de Leche Cream along with a Vanilla Malted Milk Shake.