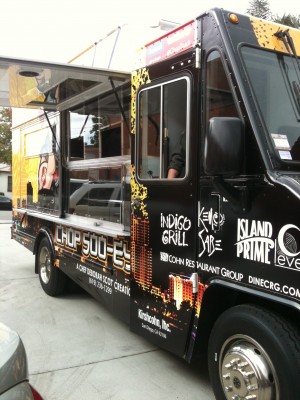 Gourmet Food Trucks have been getting a lot of attention lately. From a write up in Time Magazine to Bobby Flay challenging a well-known dessert truck in NYC for his show "Throwdown with Bobby Flay" (he lost), they seem to be everywhere. And these are not your run-of-the-mill food trucks you find in an industrial park; these food trucks feature gourmet foods, drinks and desserts you would be happy to enjoy in any restaurant in San Diego.
How do you find these tasty food trucks when they literally are always on the move? To start, most have a website where you can get their latest news, but we have found following them on Twitter is the easiest way to go. They will tell you when they are on the move and where they will be. If you are in the area, stop by and grab an organic latte or a tasty fish taco that San Diego is so well known for.
Below are some of our favorite food trucks in San Diego as well as a new food truck we are so excited about. The food truck is called CHOP SOO-EY, and it's the brainchild of David and Lesley Cohn and Chef Deborah Scott. The Cohn's are behind some of San Diego's best known restaurants including The Prado, Corvette Diner and Gaslamp Strip Club. Chef Deborah Scott was the chef with Kemo Sabe. They are now entering into this new venture and we are so excited to follow them (literally) around San Diego.
CHOP SOO-EY: Features some of Kemo Sabe's favorites as well as some great new creations. Today, they came by our office and served Pretzel Rolls with Shishito Pepper Slaw with Pork Belly, Brisket and Beans and a Lettuce Cup Salad with Jerk Chicken, Braeburn Apples, Raspberry Vinaigrette and crispy Onions. My favorite was the Pretzel Roll! Find them at www.chopsooey.com and Twitter @choptruck
Joes on the Nose: This food truck features organic coffee and espresso in an awesome big orange surfer truck! www.joesonthenose.com and Twitter: @joesonthenose
Tabe BBQ: Serves a unique blend of Asian-inspired dishes with a classic Mexican flair. www.tabebbq.com and Twitter: @tabebbq