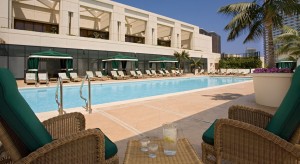 San Diego is a place most people already think of as a relaxing destination. With year round great weather, the beach, fantastic hotel pools, etc., there are so many options for visitors looking for a little R&R. One spot I like to go to when I have girlfriends in town is the Kin Spa at the Manchester Grand Hyatt San Diego.
Located on the third floor, the spa offers everything from facials and massages to hair services and mani/pedis. The adult-only pool has some of the best views of San Diego Bay and features spacious cabanas with plush couches and chairs, perfect for napping, lunching or curling up with a book. You'll never have to leave! In fact, you can even have pool-side treatments in one of the cabanas.
The other night, I was lucky enough to attend an event and have a sampling of some really great treatments. And boy could I use it! Between work, my kid's school, and baseball and dance practice, I really needed some help. Oleg came to my rescue and treated me to a great massage. I left feeling very relaxed and ready to face another day! Right now, my favorite treatment is the Gold Coast Facial. They use pure golden nectar from the honey bee, called Propolis. It is rich in antioxidants and is renowned for its unique anti-aging properties. My skin is left feeling smooth and hydrated (perfect after spending time in the pool!)
To get you ready to face the holiday stress, Kin Spa at the Manchester Grand Hyatt San Diego is treating one lucky person to a $50 gift certificate. Simply post a comment on our blog by Saturday, October 30th by noon PST. Winner must "like" San Diego and the Manchester Grand Hyatt San Diego on Facebook.