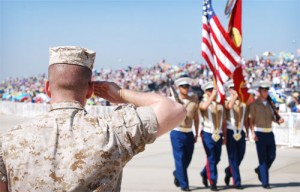 San Diego's history, social and economic makeup are all tied to the Military's presence in the region. As we celebrate the Marine's 235th anniversary today, we wanted to share some great ways you can see and experience the Military's rich history in San Diego.
MCRD Museum Historical Society – The society presents the history of the United States Marine Corps in San Diego. Visitors can see unique military collections, impressive military art, documents, and memorabilia exhibits.
Liberty Station – Formerly the site of San Diego's Naval Training Center, Liberty Station is rich in history and culture with unique museums, historic buildings and restaurants.
USS Midway – The historic naval aircraft carrier museum allows visitors to explore galleys, officer's country, sleeping quarters, and The Island!
MCAS Miramar Air Show – Each fall, the air show is held at the Marine Corps Air Station and draws thousands of people from around the region.
Fleet Week Big Bay Family Festival – Held in September, Fleet week honors the men and women of the military. The public is invited to climb aboard US Navy Ships and chat with Sailors, Marines, and Coast Guardsmen.