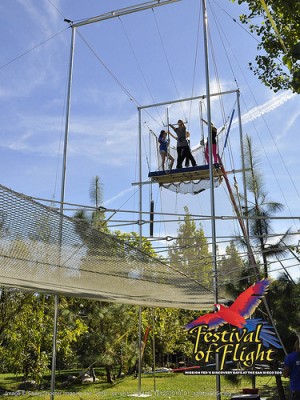 I have. And now I can! The San Diego Zoo recently began offering San Diego County's only flying trapeze school. Held in the Zoo's Camp Timbuktu campground, visitors will enjoy the sensation of flight as they take off from a high "perch" and swing through the trees. All "trapeze artists" will get a run through of safety guidelines and the basic take-off position. Then at the top, get ready to jump from the platform and fly through the air (receiving instructions every step of the way, thankfully).
Safety is their main concern, therefore there are a lot of safety and physical precautions; this isn't for everyone. I'm looking forward to trying it. I just hope they don't require spandex and sequins! That I don't think I pull off!
The Trapeze High is only offered on Saturdays and Sundays and is very popular! Be sure to book in advance. Tell us, have you ever tried it?