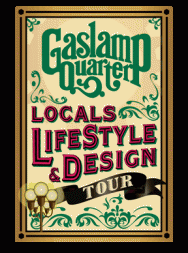 The Gaslamp Quarter is best known for the swanky bars, great restaurants and hotels.  But did you know the Gaslamp has over 100 retail businesses offering everything from fine art and spas to tattoo parlors and a boutique for dogs?  Some of my favorite shops are located in the Gaslamp Quarter.  The Wine Bank is the place to go when I need a great bottle of wine and sage advice.  I also love Bubbles…A Unique Boutique when I'm looking for a fun gift for a friend.
And this week is a great time to see all that the Gaslamp has to offer.  On Wednesday, November 17th from 5-8 p.m., visitors can stroll, shop and learn about the Gaslamp's many offerings as the shops come alive to showcase their goods and services.  There will be live painting, home décor specials, wine classes, spa treatments and more.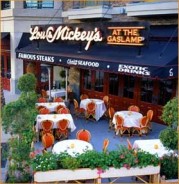 After you've strolled and shopped your way through the Gaslamp, stay for bite to eat.  There is literally something for everyone.  One of my favorite spots to eat at is Lou & Mickey's at the Gaslamp.  The restaurant features seafood, prime rib and exotic drinks in a relaxed and inviting setting.  Haven't been?  Comment below and two lucky winners will each receive a $50 gift certificate to Lou & Mickey's in the Gaslamp. Winners will be chosen, Wednesday, November 17th at 10:00 a.m. pacific.