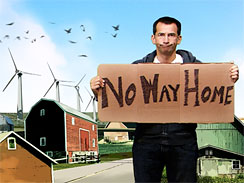 The Early Show's weather anchor, Dave Price, is about to set out on a weeklong, one-man reality show called "No Way Home" and we need your votes to make sure his journey begins in San Diego.
He's heading out on the road with only a one-way ticket, $50, a cell phone, a laptop and his ingenuity to get him back home to New York.
Last year, Dave's starting point was the Santa Monica Pier.  This year, we get to decide his drop off point and we need your help…
Click here and vote for the San Diego Zoo, or call **04 from your mobile phone; voting ends Nov. 10.