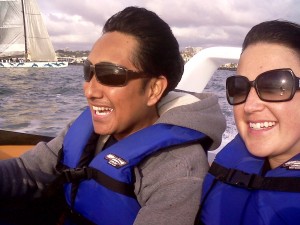 Last week, I had the time of my life on a San Diego Speedboat Adventures harbor tour. The new, two-hour tour allows YOU to jump in the Captain's seat and drive a mini speedboat around San Diego Bay for a 13-mile guided tour.  
My friend and I decided to share driving duties, so we each had the opportunity to put the pedal to the metal and sit back and take in the sights. Following our tour guide's lead boat, we zigged and zagged and bounced over waves, we sped past sailboats and harbor cruises and screamed and laughed the entire time.  My favorite part of the tour was making a U-turn underneath the Coronado Bridge. (Well, my turn was more of a "C" because I cut the corner a little sharp, but you get the gist.) 
Tour highlights include up-close views of sea lions, Naval ships, the USS Midway Museum and Maritime Museum of San Diego.  We also got one-of-a-kind views of Coronado, the Coronado Bridge and the downtown skyline.
This sightseeing tour is like nothing I've ever done before and it definitely a MUST DO!!! Tours are offered daily at 9 a.m., 11 a.m., 1 p.m., 3 p.m. and 5 p.m.; prices are $100 for a single person boat, $59 per person for a two person boat and $39 for kids.