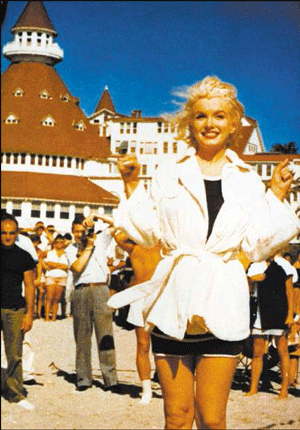 I love the movies! From indie flicks to blockbusters (sci-fi!), there's magic in motion pictures and it's one of my favorite weekend escapes.
Coronado is no stranger to the silver screen. When folks think of movies in the "crown city," glitzy Hollywood images of Marilyn Monroe basking on the beach by the Hotel del Coronado in "Some Like it Hot" usually come to mind.
But a little known cinematic gem is getting ready for its close-up: the Village Theatre on Orange Avenue. Built in 1947 (coincidentally, the same year Marilyn starred in one of her earliest roles as Evie in the film "Dangerous Years"), the Village Theatre is a striking Art Deco-style, single-screen sensation – one of only three such movie houses in San Diego County (another being La Paloma in Encinitas where I have, admittedly, seen "Rocky Horror Picture Show" – sans costume).
The theater has been closed since 2000 and is looking the worse for wear. However, an exciting sequel is in the works this winter… moviegoers are in for a treat bigger than a tub of buttered popcorn with Raisinets!
A major renovation is underway by Five Star Theatres (best known for bringing back Hollywood's El Capitan Theatre to its former glory) which will transform the historic site into a three-screen cinema, including a main auditorium with 200 seats and two rooms with 50 seats each. Cost: about $3 million. It'll include a sparkling new façade – keeping its towering illuminated "Village" sign – a retro-modern Art Deco design throughout and a brand new ticket booth on the front sidewalk. Completion is slated for March 2010.
Though it'll retain that ol' fashioned feel from yesteryear, complementing the classic charm of Coronado's main street, Village Theatre has its sights set well into the future. Five Star plans to run the theater until 2026. Now that's what I call a happy Hollywood ending!
I'll keep everyone posted with pics including, hopefully, an exclusive look at how things are progressing inside.