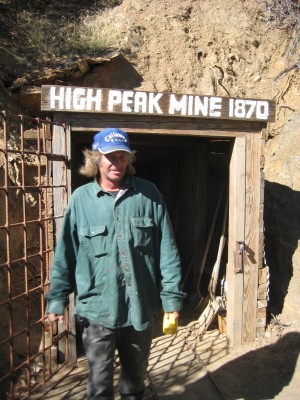 On a recent trek through San Diego's East County mountain communities of Julian, Santa Ysabel and Wynola, I came upon five fabulous finds that I'm still telling friends and family about:
Greatest thing since sliced bread – seriously! For over 45 years Dudley's Famous Bakery in Santa Ysabel (just down the road from Julian) has been baking 43 varieties of mouthwatering breads, fruit bars, pies and pastries, much to the delight of visitors and locals alike. My find: their brand new pecan maple bread – sure to sweeten many upcoming holiday feasts!
Sitting on a gold mine… Now I don't believe in ghosts, but after hearing some startling tall tales on a tour of the historic Eagle and High Peak Gold Mines in Julian – and seeing some strange floating orbs in the tunnels! – I had goosebumps up and down my spine. Feeling fearless? Check out the mines' new nighttime Ghost Hunt Tour.
Speaking of specters… Julian's colorful, golden history comes alive in – best online casino of all places – the Julian Cemetery. David Lewis' Julian Historical Tours takes guests on an extraordinary journey back in time amongst graves that almost seem to speak from the great beyond. His encyclopedic knowledge of the town, its families and brave pioneers that made Julian so American to the core left me in awe.
I'll drink to that… Apple wine! OK, it's actually called Julian Hard Cider, and they package and pitch it as apple ale, but I've got to say, one sip of this crisp light, refreshing libation during lunch at Jeremy's on the Hill (a fine dining find I also highly recommend) was just like sipping chardonnay. Enjoy free tastes and meet owner Paul Thomas at their shop at Wynola Farms Marketplace.
I heart art… Santa Ysabel Art Gallery (a charming jewel of a space just up the street from Dudley's) has a new exhibit, "Stepping Stones-The Art of James Hubbell," celebrating the wondrous works of James Hubbell – "San Diego's Gaudi." Alice would have very well found her wonderland here among his fantastical paintings, sculpture, stained glass and jewelry; on display through Jan. 9, 2011. Info: 760-765-1676.