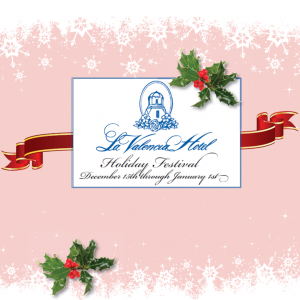 This year the La Valencia Hotel in La Jolla is going all out. Between Holiday Tea , Kids Festival and Sparkling 1010, there is something for everyone! Their Holiday Festival runs through January 1st, so be sure to stop by and enjoy the holiday festivities! Below is a sampling of some of their activities.
Holiday Tea – Your favorite cup of tea served with traditional tea sandwiches, scones and petits four. December 20-23 2:00-4:00 p.m.
Kids Festival – Bring the family for a special photo with Santa, gingerbread house decorating and readings of traditional holiday stories at 6:00 & 7:00 p.m.
Sparkling 101 – Don't miss Sommelier Chuy Galvan's entertaining lesson and tasting of sparkling wine at sunset. December 28th 4:00-6:00 p.m.
Mediterranean Nights – Come unwind on a special night featuring tapas, sangria, and flamenco guitar. December 29th 5:00-9:00 p.m.
New Year's Eve Party – Ring in 2011 in style with entertainment from Wayne Foster's 7-piece band, contemporary lounge seating, and bottle services. Includes party favors and Moet & Chandon midnight toast. December 31st 9:00 p.m.-1:00 a.m.
Be sure to check out their website for a full list of their Holiday Festival offerings.