Oy vey, it's almost New Years!  Ordinarily I am not a fan of talking about a holiday when there is another holiday before it, but I've gotta make an exception for New Years.  This stuff needs to be planned out!
I used to do the whole party-at-home, keep it simple thing for New Years Eve, but last year I decided to venture out and try one of the big parties in town.  Boy am I glad I did!  Gotta say it was one of the best New Years I've ever had, and definitely a fun way to start out the new year. 
I was a little worried about these venues with thousands of people attending…how long would I have to wait in line for a drink?  Would it be cheap liquor?  Would the dance floors be too crowded?  In the end, I didn't have to wait too long for a drink…it was good quality liquor, and yes some of the dance floors were packed – but that's true of any nightclub that you go to any time of the year…If the DJ is good, the dance floor is going to be full.
So if you're interested in hitting up one of the big parties, but not sure where to go…here are some options to consider: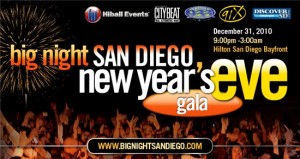 Big Night San Diego – Hosted at the Hilton Bayfront hotel in Downtown, they will have 12 themed party rooms, 6 dance floors, all you can eat food & drink, party favors, balloon drops, etc.  They are expecting up to 4,000 people, so this event will be BIG!  Sponsors include 91X, Channel 93.3, San Diego CityBeat and DiscoverSD.
EPIC New Year's Eve 2011 – But I've got more than 4,000 friends you say?  Give me something with a bigger capacity, you say?  Then EPIC NYE 2011 is your spot!  With an expected 15,000 partiers, EPIC is putting on their NYE party at the Del Mar Fairgrounds with such top DJs as Moby, Afrojack, Ferry Corsten, Jason Ross and more!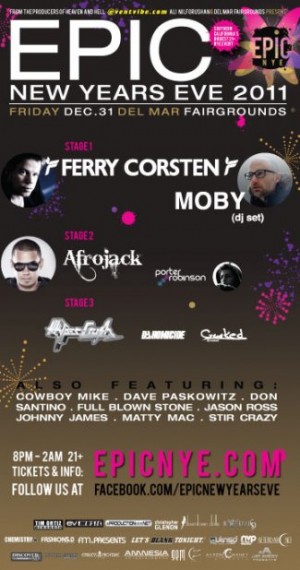 New Year's Eve Yacht Party – What better way to start 2011 than by yelling "I'm on a boat!".  Millenium Events hosts their NYE party aboard the Hornblower Inspiration with open bar, unlimited appetizers, chocolate fountains, and live entertainment.  This is a great alternative venue and sure to be memorable!
There are really too many parties to even list a fraction of them all here. Round up your friends, make a pact to leave 2010 in the past, and party into 2011 like a rockstar!  And whatever you end up doing, please…be responsible and safe!  San Diego loves a good party, but we also love living right.