I thought I knew the "Crown City" of Coronado. I pretty much do – its postcard-perfect beach, charming main street, The Del and iconic bridge.  But during a walkabout with Coronado Touring I found a few historic jewels in the island crown that I had never heard of before. Only two of these I haven't seen (yet). But if you're lucky, you just might find them all!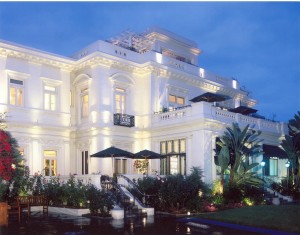 Tubular… The stately Glorietta Bay Inn – former mansion home of sugar baron John D. Spreckels located across the street from the Hotel del Coronado – has a few cool secrets up its historic sleeve. One is the supposed tunnel leading from the hotel basement, going underneath Orange Avenue and connecting at the Shops at the Del. They say this was how Spreckels, an early owner of the Del, could get (secretly) to and from his beachfront investment.

Mrs. Spreckels' safe at Glorietta Bay Inn.

Play it safe… Also at GBI is a small (nonworking) personal safe built into the wall of Room 102 – the Sugar Baron Room. Back in the day this was Mrs. Spreckels' private bedroom. If these walls could talk…one can only imagine what the well-to-do matriarch stashed away. Overnight guests still try their darndest to crack the safe, but to no avail.

Rock bottom… Located in the lower level of the Hotel del Coronado among its labyrinth of shops is a rocky cavernous storefront (now home to a real estate company) that was once a massive water cistern for the hotel in the early days. Though tempting, no spelunking or rock climbing allowed!

C-O-R-O-N-A-D-O sand dunes

Under a spell… I've seen them, flip-flopped over them a million times, but I had NO idea the sand dunes on Coronado Beach are actually made of heaps of kelp scooped up from the beach and buried under tons of sand. The big reveal: from the air (those lucky North Island naval pilots!), the ice plant covered dunes spell the word "Coronado." Now that's civic pride!

Remains of S.S. Monte Carlo at Coronado Shores.

Mast from the past… Buried beneath the sands of Coronado Shores (just south of The Del) is a ship! The S.S. Monte Carlo – a gambling ship that touted "drinks, dice and dolls" back in 1936. That is until tragedy struck that New Year's Eve. A mighty gale caused the ship to break from its anchors, pushing it to its shoreline demise. Occasionally, at low tide, you can see the ghostly outline of the ship exposed. What watery secrets wait to be revealed? I'm keeping my eyes on the tide charts.