The Big Apple recently took a bite out of San Diego's East County in an in-depth New York Post travel article, "Good times in San Diego." Though they didn't get to sample Julian's famous apple pies (Big Apple & apple pies – how almost apropos), the travel editor DID get a taste of some lesser-known, but unequivocally cool finds along Historic Highway 94. In his own words, "EAST IS IT" – and I couldn't agree more!
Following are "5 to Try" along Historic Highway 94 – New York-certified and sure to put visitors in a Mountain Empire state-of-mind: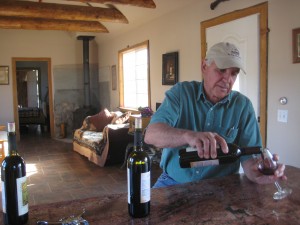 Gloriosa Vineyards, "California's southernmost winery," also in Campo – just a stone's throw from the international border. Personal wine tastings by appointment only.  The Post enjoyed "their crisp, dry Zinfandel and pleasantly plummy Cab."

Vroom! - Motor Transport Museum

Get your motor running at the Motor Transport Museum in Campo.  As the Post puts it, the perfect place for "transportation nuts" with its "decommissioned bits of automotive history."  From milk trucks to Mack trucks, this place is a hoot and a half!

Pacific Southwest Railway Museum's trestle bridge over Highway 94.

Choo choo down to Campo's Pacific Southwest Railway Museum, bringing "a slice of the past to life with hour-long train rides down to the border." While you're there, trek off the tracks and walk over to Tecate – what the Post calls, "one of the friendliest towns on the US/Mexico border." Also, the highway goes right under their giant trestle bridge!
Campo's Camp Lockett, the "long-abandoned…last home for the Buffalo Soldiers who guarded the southern border during World War II." Many of the old buildings are still intact; designated a California historical landmark in '09. A state park is now in the works.
And my personal recommendation: Gaskill Brothers' Stone Store & Museum – slated to become part of future Camp Lockett state park. I got a kick out of this olde time country store with its dried goods (don't eat!) lining the shelves and funny dioramic pioneer women. It was once housed the U.S. Calvary's telegraph station…OH, and it was the site of an Old West shootout in 1875 (who knew!). Giddyup!