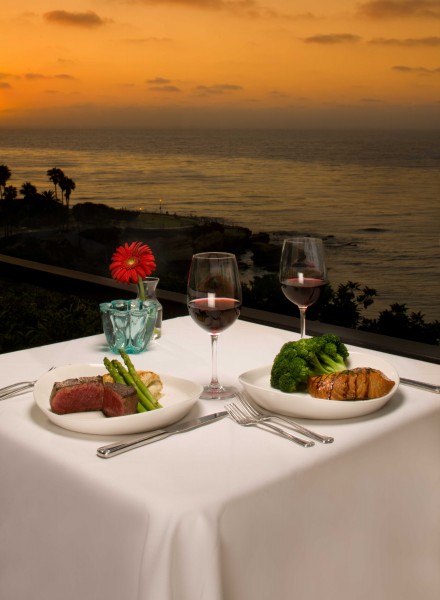 Ahh, the steakhouse.  The perfectly aged and impeccably seared steak.  The generous sides.  The big, welcoming leather booths.  Usually these are reserved for special occasions or those with expense accounts but, during San Diego Restaurant Week you can dine out at some of San Diego's best steakhouses – including the big national names like Morton's, Ruth's Chris and The Palm – for a fraction of the normal cost. But, let's think independently.  Following are a few steakhouses you'll find only in San Diego with deals available only during Restaurant Week:
Located in downtown's East Village, Cowboy Star mixes a modern-industrial vibe with a nod to Old Hollywood Westerns for a steakhouse experience like no other.  The $40 Restaurant Week menu include choices like Snake River Farms Wagyu tartare with fresh horseradish, pumpernickel toast, arugula and créme fraîche or pan seared Wild Steelhead Salmon with black trumpet mushrooms, shaved Brussels sprouts, shallots and herb fondue. Plus exotic options like rabbit ravioli with sauteed wild mushrooms, Swiss chard, ver jus-rabbit emulsion and crispy pancetta.
Perched overlooking La Jolla Cove, The Steakhouse at Azul La Jolla features a view of the ocean that will almost distract you from the open-kitchen action on the opposite side of the cozy dining room.  But focus!  Because that's where the chefs turn out a $40 Restaurant Week menu with tempting options like rock shrimp pot pie with saffron vegetables; Berkshire pork loin with maple bacon, roasted kabocha squash and blackberry reduction; and New York Strip USDA prime steak with fried sweet shallots and red wine demi glace.
Or, try your luck at The Grove Steakhouse at Viejas Casino.  You can't lose with a Restaurant Week menu that includes options like Green Lip mussels tossed in hot olive oil, Garlic and Lemon with a basil pesto broth; deep fried jumbo shrimp wrapped in applewood smoked center-cut bacon with a Monterrey pepper jack fondue; and tender 3oz filet medallions topped with a three mushroom ragu.  Since it's priced at only $30, you'll even have money left over to hit the tables.
Feeling like stepping out for a steak?  What's your favorite steakhouse? San Diego Restaurant Week is only 3 days away, make your reservations today!