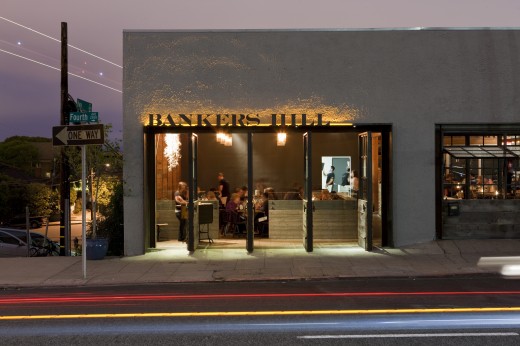 Who doesn't want to try the hottest new restaurant in town?
There's no better time to get out there and find your new favorites than during San Diego Restaurant Week.  Because with reduced prices for three-course menus you can afford to explore a little.
Here's some new restaurants to worth checking out:
Barrio Star, Isabel Cruz's newest spot in Banker's Hill, serves up a fresh, creative take on traditional Mexican flavors.  You'll love the festive atmosphere and Day of the Dead-influenced decor almost as much as you'll love the Restaurant Week menu items like chicken tamales made fresh, in-house daily and served with black beans, rice, and corn salsa; local whitefish with cumin and cardamom rub paired with cilantro-lime sauce, coconut rice and roasted tomatoes; and spicy chile relleno with jumbo shrimp.   Priced at $20, this menu is a steal!
Banker's HIll Bar & Restaurant, also located in Banker's Hill (surprise, surprise!), is the newest venture from the team behind Del Mar's much-lauded Market Restaurant and Bar.  Here, chef Carl Schroeder's menu is still bursting with local flavors but focuses on hand-crafted comfort food and the vibe is neighborly but cool.  From the $30 Restaurant Week menu you can sample items like proscuitto deviled eggs with parmesan-white cheddar crisps, bacon and  arugula; coriander marinated rock fish ceviche with avocado, pico de gallo and BBQ spiced corn chips; or cast iron roasted King Salmon with artichokes, vegetable ragout, cauliflower gratin and lemon butter.
Brand new in Ocean Beach, Bo Beau Kitchen + Bar is the latest addition to the mighty Cohn Restaurant Group.  You'll feel like you stepped right out of San Diego and into the South of France at this casual neighborhood bistro.  Savor the experience with a $30 Restaurant week menu featuring options like boeuf bourguignon with baby carrots, pancetta, mushrooms, pearl onions and fingerling potatoes; leek 'fondue' macaroni and cheese in a silky cheddar gratinee; and Atlantic salmon with arugula-pesto gremolata and seasonal vegetables.
What new restaurant are you excited to visit?
San Diego Restaurant Week starts in just two days…make your reservations today!