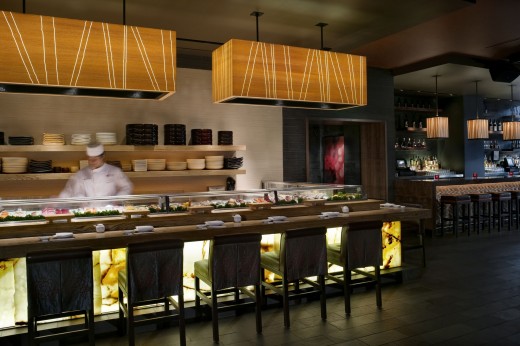 Did you know San Diego is located on almost the same latitude at Japan's capital?
Yep, head practically due East across the Pacific from San Diego and you'll end up in Tokyo.  Or, save on airfare and dine out for San Diego Restaurant Week.
Enjoy incredible sushi, sashimi and more at:
Nobu is the biggest name in the world when it comes to Japanese restaurants.  Helmed by famed chef Nobu Matsuhisa with outposts in Tokyo, New York, London, Dubai and, yes, downtown San Diego, it offers a luxury experience and world-class fare that draws movers and shakers, celebrities and well-traveled gourmands.  The $40 Restaurant Week menu, with options like barbecue freshwater eel with monkfish pate and miso-mustard sauce or thin-sliced beef rib eye tataki with cilantro salad and toszau dressing, means you too can live it up at Nobu.
It's located in the heart of La Jolla but Roppongi Restaurant & Sushi Bar is named after the famed Tokyo dining and nightlife district and channels that distinctive Japanese cool.  Chef Stephen Window incorporates flavors from around the Pacific Rim in a $30 Restaurant Week menu that includes dishes like tuna tataki with Japanese pepper and white miso.  For the less adventurous, he also offers pan-seared salmon and boneless beef short ribs.  So, there's something for everyone!
Izakayas are basically Japanese tapas bars and offer a more casual vibe.  The newest kind of Japanese restaurant to hit our shores, they are all the rage.  You can check it out for yourself with the $30 Restaurant Week menu at Shimbashi Izakaya in Del Mar where they'll be serving up light, crispy fried tempura, specialty hand-rolls and old favorites like edamame and miso soup. 
Which restaurants make you feel like you're transported to another place? 
Only 10 days until San Diego Restaurant Week, make your reservations today!