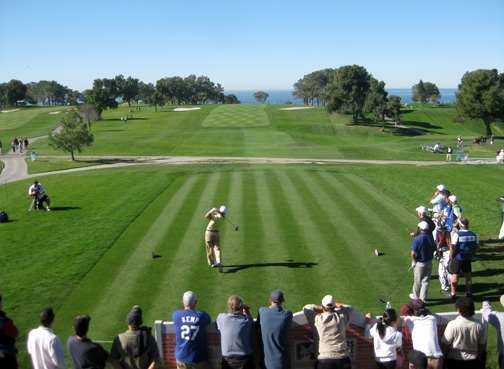 Mark Twain once referred to golf as "a good walk spoiled."
Tell that to the thousands of fans who thoroughly enjoyed themselves Thursday walking the grounds of the North and South courses at Torrey Pines for the first round of the Farmers Insurance Open.
Spectacular was more like it. The weather was magnificent, the scenery was stunning and the golf was great.
The spectators saw South Korea's Sunghoon Kang shoot an 8-under-par 64 to take a one-shot lead. They watched three other players come within two strokes of Kang and 10 others — including hometown favorite Phil Mickelson and John Daly playing the South — three strokes back after shooting 67s. They witnessed six-time champion Tigers Woods open with a 69 on the North.
Kang's round was highlighted by an eagle on the North's 14th hole, a 526-yard par-5. Kang actually hit over the green with his second shot but chipped it into the hole coming back for the eagle three. Interestingly, he is one of four rookies — along with Chris Kirk, Keegan Bradley and Fabian Gomez — among the top five players following the first round. It would be pretty remarkable for one of them to pull off a victory here. The event hasn't had a first-time winner in 20 years.
The rookies are similar to spectators walking the course in that many of them are excited simply for the opportunity to get a glimpse of veterans like Woods and Mickelson up close.
"I know they are so much better than me right now, so I'm really trying to learn from them," said Kang. "I really want to learn how they play and how they do around the greens and how they work the ball and how they practice and how their pre-shot routines are. I really want to learn. . . . I don't want to put any pressure on me, so I'm really just trying to have fun."
Mickelson, who has won this event three times, position himself to make a run at a fourth title. It wouldn't be surprising. Mickelson is something of a fast starter, winning in his first PGA Tour event of the season five times during his career.
"I'm excited," said Mickelson. "I'm excited to get back playing golf. I'm excited about playing on the West Coast, because these are the tournaments that I grew up playing and dreaming of playing. I've always enjoyed playing here. It's similar grass to what I've grown up on. So the fact that I've been practicing hard, I've been working hard and my excitement level is very high."
The emotion was similar for Woods in his season debut. He seemed to enjoy the atmosphere as much as everyone around him did.
"The crowds were great today," said Woods. "They were into it. . . . I think everyone came out and enjoyed themselves. Perfect weather. Get to work on your farmer tan, so it's good."