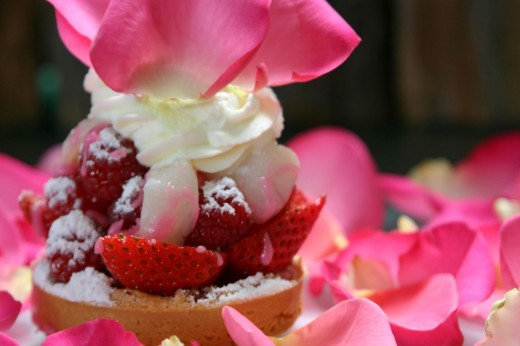 Nothing says Valentine's Day like a box of chocolates. But, despite your best intentions, a box of mass-produced Russell Stovers from the drug store says all the wrong things. Instead, let me play Cupid. I've got a few sweet arrows in my quiver that are sure-fire hits.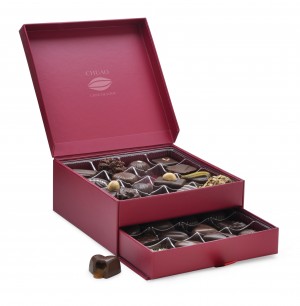 Want a gift that's as beautiful and unique as your special someone? Set the mood with artisanal chocolates hand-crafted right here in San Diego.
Chuao Chocolatier, with three locations in La Jolla, Del Mar and Encinitas, is offering up bonbons infused with aphrodisiac ingredients like honey, wine, chilies, strawberries and spices.  The Elegancia box holds 32 of these decadent treats for around $50.  Or, go traditional with the Sweetheart – yes, it's a heart shaped box – filled with 22 of the upscale candies in flavors like Firecracker, Passion, and Fragolina (a port-drenched dried strawberry enrobed in dark chocolate ganache) for $49.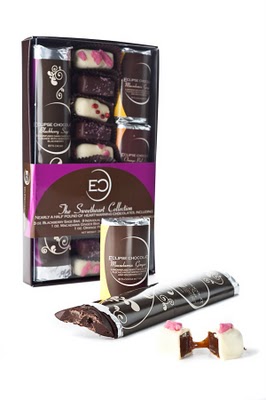 The team at North Park's Eclipse Chocolat are already busy making a few thousand pounds of chocolate in anticipation of the big holiday.
Try the Sweet Heart Collection which includes heart-warming chocolate bars in flavors like blackberry-sage, macadamia-ginger, chile-hazelnut and orange peel-anise plus creme fraiche caramels topped with pink peppercorn, merlot-infused sea salt, or candied rose petals.  Priced at $30 and weighing in at over a half pound, it's sure to hit the sweet spot.
If candy isn't your thing, what about cupcakes for your cutie?
The hottest new kid on the block is the La Jolla location of the famous cupcake bakery, Sprinkles. It opened January 13 and there's still a line around the block!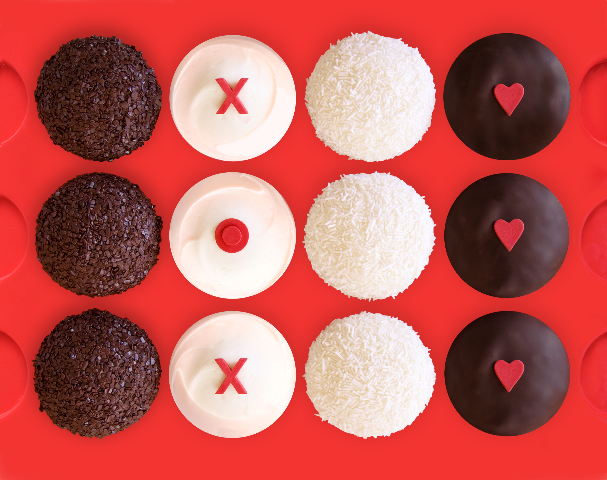 The cupcake artists at Sprinkles are whipping up two limited edition flavors for Valentine's Day: a chocolate chip-studded dark Belgian chocolate cake with raspberry frosting and a "Red HOT Velvet" red velvet cake with spicy cinnamon-cream cheese frosting. They can also put together a specially themed "XOX box" filled with a dozen cupcakes topped with XOX and sugar heart decorations in flavors like red velvet, chocolate marshmallow, dark chocolate and vanilla for $39. (Tip: Call ahead and place your order for pick up so you can skip the line!)
Of course, you know that someone really loves you when they give you a scrumptious show stopper from Extraordinary Desserts.  Karen Krasne's beautifully crafted dessert masterpieces are almost too pretty to eat but, don't let that deter you because they taste even better than they look.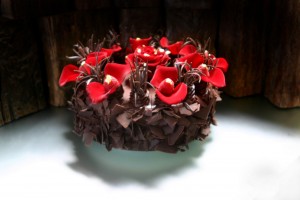 Her Valentines Dessert Specials, available at both the Balboa Park and Little Italy locations, include the Amor Chocolat, a rich, dark chocolate cake moistened with ruby Port reduction and layered with creamy chocolate mousse and milk chocolate crème brulée; the Shangri-La, a Kirsch-moistened vanilla cake layered with white chocolate and guava mousses, fresh strawberries and whipped cream; the Chocolate Raspberry Concorde, a chocolate tart filled with salted chocolate chip mousse and surrounded with fresh raspberries; and the Fresh Berry Vanilla Crème Brulée Tart, a buttery white chocolate tart shell layered with vanilla bean crème brulée and fresh berries, and finished with whipped cream. (That's the berry brulée at the top of the post.)
All are priced between $8.95 and $14.95 per slice. Pick them up or bring your sweetie in for a romantic dessert date to remember.
Chocolates, cupcakes and dessert decadence. A little sugar that's guaranteed to make your Valentine swoon. What's your favorite sweet treat in San Diego?
For more San Diego dining dish, follow Kate on Twitter @katebuska.