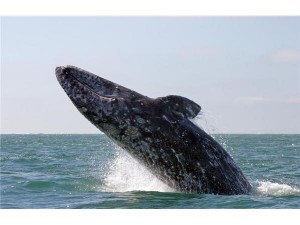 Every year from December through March, visitors to San Diego have an opportunity to watch the gray whales migrate from Alaska to Baja. One of the most unique ways to see these magnificent creatures is by kayak. Kayak you ask? Yes! OEX Dive & Kayak in La Jolla offers whale watching kayak tours from La Jolla's Ecological Preserve, a marine sanctuary and home to the seven seas caves, Leopard Shark City and the La Jolla Sea Lion and Harbor Seal colonies. Whale watching from a kayak allows participants the opportunity to be one with the ocean and enjoy an incredible up-close view of the whales as well as provides a nice little workout. I should note: you aren't always guaranteed a glimpse of the whales (they don't always get the memo that we've just paddled out to see them), however according toMike at OEX, no one has ever been disappointed. Seals, dolphins and other marine life are almost always swimming around and are happy to oblige the kayakers.
Of course this isn't the only way to get out and see the whales. From land to sea, check here for a complete round-up on whale watching in San Diego.
Interested in giving the kayak tour a try? Comment below on our blog and one lucky winner will win a pass for two to OEX Dive & Kayak's whale watching tour. Must comment by Wednesday, January 26, 2011, 10:00 a.m.
OEX Dive & Kayak Center offers kayaking, scuba, stand-up paddleboard and snorkel tours and rentals from several locations throughout San Diego County. Check out their website to learn more!