Watching the world's best golfers is what draws fans to the Torrey Pines Golf Course for the Farmers Insurance Open. The wide assortment of promotional booths, sponsor tents and other activities at the entrances and along some of the fairways is a pleasant surprise that makes the experience even more memorable.
The Kodak booth and the Military Appreciation Pavilion, both located adjacent to the South's 14th green, are two of the more popular places.
Thousands of fans have taken advantage of the opportunity to get their picture taken at the Kodak booth. Amber, Piper or one of the others in the booth position their subjects in such a way that the hole and/or the ocean serve as a backdrop. In some instances a fan's favorite player can even be seen in the background putting out on the green. Within a few minutes of having their photo snapped, the fans are handed a free souvenir to take with them. "That's a cute picture of all of us," one woman said to her friends as they walked out.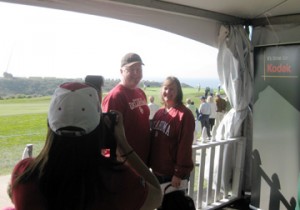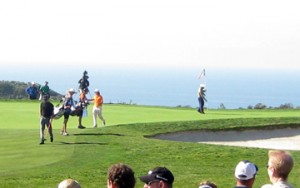 Glenn and Donna Harris of McLoud, Okla., were were wearing Oklahoma sweatshirts as they followed the group that included Anthony Kim, a Sooners alumni.
"It's been a blast. It really has . . . " said Glenn, who paused in midsentence when he heard a cheer go up, "Oh, it looks like he (Kim) just birdied again. Good."
The Harris' ducked into the Kodak booth for a picture before heading over to the Military Pavilion.
"There's so much to do here," said Glenn. "You can't ask for anything better."
Glenn, a chief petty officer in the Navy, was stationed in San Diego recently. As an active military member, he was entitled to enjoy the Military Pavilion sponsored by the Padres. There was a line to get in much of the afternoon, with service members and their families enjoying complimenary food and beverages.
A few uniformed Marines had the added honor of getting to take turns standing behind the green on the 14th hole and replace the flagstick — which had a small American flag on it — after each group completed the hole.
"I play golf myself, so I was all over it," said staff sergeant Joseph Barton of Gainesville, N.Y., who has been stationed in San Diego the past five years. "I was in for John Daly's group and Phil Mickelson's group with Rickie Fowler, and Mr. Kim just came through.
"It was an outstanding experience. It was definitely a once-in-a-lifetime opportunity."
Barton was eager to get back to the base.
"I'm just going to go back and gloat about it now," he said.
Barton was accompanied by staff sergeant Sheldon R. Edwards, who was still talking about getting an autographed golf ball from Daly earlier in the week.
"That's the one I really wanted," said Edwards, who is from West Virginia. It wasn't the one he really NEEDS, though.
"My sergeant major said to get Tiger Woods' autograph on a golf ball," said Edwards, "or he said he's going to have my orders changed and have me sent to Twentynine Palms."
The reference was to the world's largest Marine Base. By distance it is only 150 miles or so from San Diego. By climate? That's something else altogether. A temperature of 119 degrees was recorded at Twentynine Palms one summer day a few years ago.
Edwards hopes the sergeant major was joking.
Phil Mickelson and Bill Haas share the lead coming into Sunday's final round of the Farmers. Woods, who slipped from the leaderboard Saturday with a 2-over-par 74, is eight shots back and likely in no mood for signing autographs.